Photo courtesy of Save San Roque Facebook page
The local government of Quezon City drew flak online after cops apprehended protesters along Edsa Kilyawan, Barangay Bagong Pag-Asa on Wednesday, April 1.
According to the Quezon City Police District (QCPD) 21 residents of Sitio San Roque, Brgy. Bagong Pag-Asa were arrested for violating laws amid the existing enhanced community quarantine.
In an interview, QC Police Brigadier General Ronnie S. Montejo said the protesters have been arrested for staging an "unauthorized protest."
He added that the protesters have been brought to the Criminal Investigation and Detection Unit (CIDU), and will be sued for violating RA 11469 or the Bayanihan To Heal As One Act, RA 11332 or the Mandatory Reporting of Notifiable Diseases and Health Events of Public Health Concern Act) in Relation to RA 922 and Violation of Art. 151 (Resistance and Disobedience to a Person in Authority or Agents.
NCR Police Chief Debold Sinas said that he was dismayed over the incident, and urged people to stay at home.
""I understand the challenges that go with the implementation of our enhanced community quarantine endeavor. However, we have our own sacrifices to make to win this battle with the unseen. The safest place to be right now is at home. So please, stay at home. Let us end the spread of this pandemic together. We cannot do this alone," Sinas said.
The Demand of The People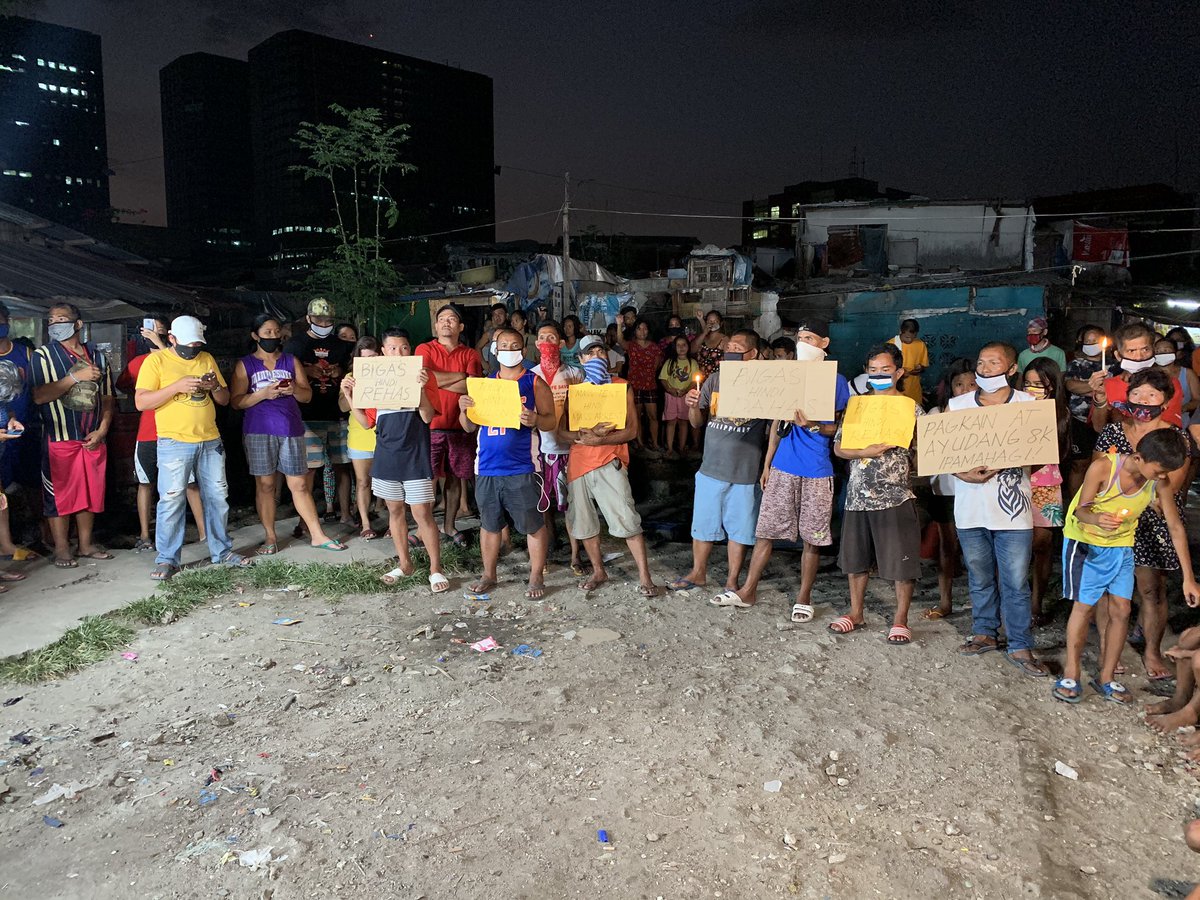 In a statement, Save San Roque group said that the group braved the dangers of the Coronavirus disease (Covid-19) and rallied to "demand action" from the local government of Quezon City.
"While fundraisers and donations from the church, influencers, organizations, and even fan groups have been significantly helpful during the pandemic, what people need most is concrete action and aid from the government," the group said.
"With the lockdown in place, work has stopped, and with a sudden lack of income, many residents have been left hungry and waiting for relief that is yet to come," they added.
"While social distancing measures are in place to maintain public safety, food and nutrition for all is just as much a matter of the safety and welfare of citizens. Arrests and a violent dispersal is not the answer to the unrest and anxiety of the people. Rather, the root of their problems must be addressed, and their needs rightfully attended to," they said.
QC Mayor Joy Belmonte earlier said that at least 40,000 food packs will be donated to residents of the city until the end of the quarantine on April 12.
---
Join the community of Young, Empowered, and Creative! Like, Follow, Subscribe to metroscenemag.com and our socials Facebook, Twitter and Instagram.